Architect, educator, and author, Jim Leggitt, FAIA has been practicing for over thirty years in Denver, Colorado. He conducts drawing workshops and seminars at universities, architectural firms and professional conferences throughout the United States and Canada. Jim's popular drawing workshops at the past four AIA National Conventions were scored the best workshops at each conference. Architects are now gaining back their drawing confidence through Leggitt's programs on "Tradigital Imaging" - an innovative drawing process that merges traditional hand drawing with computer assisted digital imaging. Leggitt also teaches drawing courses to graduate students at the University of Colorado at Denver College of Architecture and Planning. Jim has served as President of the Denver Chapter AIA and as director on the AIA Colorado Chapter Board. Leggitt currently is working with RNL Design in Denver.
Leggitt authored DRAWING SHORTCUTS: Developing Quick Drawing Skills Using Today's Technology, a 208-page full color book published in 2002 by John Wiley and Sons. The book has been translated in several languages and has been adopted by over 60 universities.
Jim Leggitt Bio
---
Recognizing the lack of hand drawing skills in architects and design students, Jim Leggitt, FAIA has reintroduced the tradition of drawing to our profession, teaching effective hand drawing techniques that incorporate new digital technology in a highly innovative visualization process.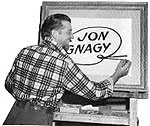 Jim Leggitt took his first drawing lesson at five years old, courtesy of TV. There were two 'how to draw' programs being broadcast in 1955. Winky Dink and Me and Jon Gnagy's Learn to Draw gave Jim his first taste of a cutting-edge combination of technology and hand drawing while tracing televised drawings onto clear vinyl placed directly onto his black and white TV screen. Fifty years later, Jim is now reintroducing Jon Gnagy's passion for teaching traditional drawing techniques, but with 21st century digital equipment, high-speed computers and interactive monitors as tools to assist in the drawing process.
For the past three decades, Leggitt has practiced architecture with two primary goals - to improve the practice of hand drawing and to share his discoveries with others in the profession. Jim has achieved those goals by developing new hybrid drawing techniques that integrate digital technology with traditional drawing processes saving time and money. He published his findings in a book, and has successfully promoted his "you can draw" message to national and international audiences. Jim's likable teaching style and enthusiasm for drawing has consistently been rated #1 at national conventions, his AIA lectures and drawing workshops have earned over 10,000 AIA learning units for architects across the country, and his successful book Drawing Shortcuts, published in three languages, has already been adopted by over 50 universities. Expanding his message, Leggitt is now searching for new ways to re-establish 'hand drawing' as a preferred communication skill not only for architects and students, but also for allied professionals, teachers, children and the general public.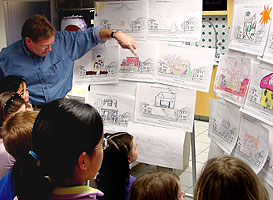 In the early 1990's, Jim Leggitt recognized that the architectural profession was unfortunately shifting away from traditional hand drawing in favor of computer visualization, a trend he considered to be a significant threat to the foundations of architectural design communication. Academia overhauled their programs, replacing their traditional drawing courses with new classes in Form Z, 3D StudioVIZ, Photoshop and others. As a result of this trend, universities began graduating architectural students with minimal or no hand drawing skills! At the same time, practicing architects put away their pencils and focused on creating 3D computer models and sophisticated animations demanded by clients enamored with computer visualization. It was at that time Jim developed his ambitious process for educating others about the value of hand drawing. He has accomplished this in four distinct ways:
Develop New Drawing Techniques.
Leggitt has integrated the camera, copier and computer as tools to assist with the hand drawing process. Employed for over 15 years with RNL Design, the largest architectural firm in the Rocky Mountain area, Leggitt has generated thousands of architectural drawings and sketches, design guideline images and he recently originated 'Tradigital Imaging'. Many of Jim's drawings are incorporated in marketing collateral for his firm.
Teach Drawing on a National Level.
Jim teaches a broad range of 90-minute seminars, half-day and full-day drawing workshops, and college level courses on the subject of drawing for universities, AIA national and regional conferences, architectural firms, allied organizations and public programs throughout the United States and Canada.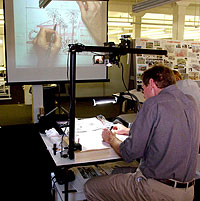 Publish for Architects.
In 2002 Leggitt authored Drawing Shortcuts: Developing Quick Drawing Skills Using Today's Technology, the highly successful 'how to draw' book published by John Wiley & Sons in three languages, with over 10,000 copies sold worldwide. He has authored numerous magazine and Internet articles on the subject of drawing and maintains an active website for updating architects with his new 'tradigital imaging' techniques.
Promote AIA Leadership.
Leggitt has served over ten years on Local AIA boards and committees. He originated the AIA Denver Design Communication Committee and organized local youth and teen drawing programs. He formed the AIA Colorado Speakers' Committee for the 2001 AIA National Convention in Denver and served as AIA Denver President during one of the most productive periods of the board's history.